Annamalai University was established during the period of British rule in Chidambaram, Tamil Nadu. Now it becomes one of Asia's largest public residential universities and also an extraordinary centre of excellence for learning arts, science, commerce, management, law and many more. If you would like to know more about Annamalai University, read on the post thoroughly..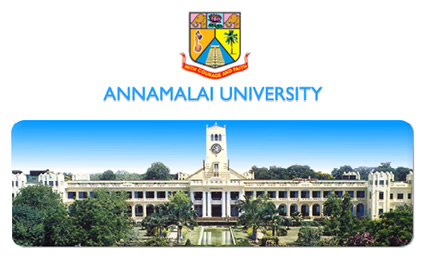 Annamalai University offers around 500 different graduate and undergraduate courses through both regular and distance education. Tuition fee of the University is reasonable as compared to other Universities in Tamil Nadu. Not only that, it also provides scholarship opportunities to the students on the basis of merit.
7 Key Facts About Annamalai University
1. It was the first University in India to offer postgraduate degree programs in Law, Applied Psychology, Physics, Chemistry, Zoology, Botany, and Bioinformatics  through distance education.
2. Annamalai University is one of the very few Universities in India with all the Faculties located in the same campus.
3. Last year, NAAC has accredited Annamalai University with a grade of A.
4. In 2007, Outlook magazine ranked Annamalai University amongst the Top 50 Engineering Colleges in India both in private and government sectors.
5. The Directorate of Distance Education of Annamalai University was established in 1979, which is one of the oldest in India.
6. Its yoga centre is recognized as a role model center for higher learning in the Universities World-over. The centre attracted large number of celebrities, VIPs, including NAAC(National Assessment & Accreditation Council) and UGC (University Grant Commission).
7. Annamalai University results are declared on time through both online and offline.
Annamalai University Placements cell was founded in the year 1988. Since then, it has been working superbly to help students get placement in various companies. It's students get placed in top companies like TVS, Accenture, Huawei etc.

The University also has a big library with a collection of around 4,63,000 books. Apart from books the library also has CDs, Gramophone Records, Audio Cassettes and video Audio Cassettes. The great thing about the library is that it works throughout the year, on all Sundays, and on all holidays (except National Holidays). Photocopy service is also available inside the library, so that the students can get required xerox copy immediately.
Annamalai University has few study Centers in foreign countries. The first study center was stared in 2006 in Canada to provide programs and courses in Dance, Music, Tamil and Yoga. Visit India's popular education portal Collegedunia.com to know more about Annamalai university.