DA known as Domain Authority, is termed to be a metric by SeoMoz. So, if you are wondering what does it do? Well, it ranks a certain website in search engine results. The higher the DA of a website, the better it is. In the beginning, one can experience a giant leap in the DA even with a gap of 10. For example, if the website's DA is 20 earlier, it can become 30. However, if one's website gets DA say 55, then it starts getting difficult to progress in the same fashion.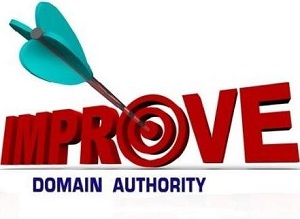 Domain Authority speak volumes about the quality of a webpage since a rising DA, is surely an indicative of the fact that it is a "quality" one. Now, if you want to make your blog stick with the highest degree of professionalism and a quality one,  then read the following post since, it will help you know the 7 Simple Ways to Improve Domain Authority.
Content Has to be of a Top-Notch Quality
As one say, beginning should always be the strongest, therefore, when it comes to know the ways to improve DA, you need to furnish quality content in your blogs. The extent of the utility of your post determines as to how many free natural links your post will be linked to. Therefore, make sure that your post is highly informative. There are ways to make them coveted like by creating an extremely helpful infographic or write articles related with "tutorials" etc.
Comment on Quality Blogs For Links
In order to fetch various inbound links, you need to be knowledgeable about the fact that just by commenting on couple of dofollow blogs, you won't get the desired result. Since, search engine wants you to get the links from various blogs. Hence, make sure that you select the blogs which are synonymous with different niches. It is a prominent way to get due respect to your blog but don't resort to this method excessively.
Don't Miss: 10 Best Ways to Get More Traffic to Your Blog
Don't Overlook The Importance of Social Media Sites
According to a changed algorithm, if the social presence of your website is some thing to talk about, then no one can stop the site authority to go up. Hence, use social media sites towards popularizing your post so that it can get increasing exposure as well.
Time is Important
DA is also based on the age of a domain. After getting various articles written, your next aim should be to rank them in Google in order to get quality backlinks for every single page. Besides quality content, you equally can't ignore quality backlinks which work wonders in improving the DA of site.
Build Trust
Another easiest way to improve Domain Authority. Trust comes when you are honest and true to yourself. On the same lines, it is important to avoid using any black hat seo techniques or else you might even be banned on permanent basis. In the event when so many links are directed, then search engine will eventually consider it  to be fishy as the practice is also regarded to be spamming which will only ban the website.
SEO Plays a Major Role
DA of a website is primarily dependent on the number of inbound links which are directed from quality sites. If the blog generates higher number of inbound links from the blogs which are considered to be of high authority, then its DA is naturally going to rise. Similarly, the door of SEO in generating quality inbound links is always open as well.
Link to the Previous Articles of Your Blog
While writing new articles, don't make the mistake of not linking the earlier posts which are related to the same. Since, by doing it, search engine will get to know that your blog has got quality content even in the inner pages as it work wonders in ranking it in a full-fledged way as well.
Conclusion
Finally, aforesaid are the 7 Simple Ways to Improve Domain Authority. Make sure that you use them since no words can express the kind of happiness and enjoyment which you get while seeing the blog getting ranked higher as it equally improves the authority. Great, isn't it?